After years of amazing digital marketers passing through Salford Business School we take a look at who created the best performing blog during their time there for 

Digital Marketing and SEO!
Hi, I'm Andy – the founder of Lumos Digital Marketing. Around 2 years ago I graduated from Salford University with an MSc in Digital Marketing. One of the stand out projects during my time studying there was a personal branding assignment. As part of the assignment, students had to work on developing their personal brand online and build it towards helping them build influence within their chosen career path (for most of us that was Digital Marketing).
This assignment was probably the most practical out of the 4 modules studied on the degree – these modules included:
Search and Social Media Marketing

Digital Marketing Analytics and Strategy

Online and Offline Consumer Behaviour

Digital Marketing Communications
The personal branding project was part of the Search and Social Media marketing module and engaged students on areas such as social media communication strategies, search engine optimisation, marketing frameworks and SEO site audits to name just a few.
For me this module allowed me to reach out into an industry, which at the time I was completely unfamiliar with. I built up my social media presence on Twitter and LinkedIn and connected with other professionals in the industry. The momentum from this has allowed me to build my career in Digital Marketing and laid the foundations for creating Lumos Digital Marketing. 
How My Time at Salford Business School Prepared Me For a Career in Digital Marketing?
It's with a reasonable level of regret that my original website created at the time on the Universities 'Creativehive' blog platform is no longer live. I created my initial blog posts for the personal branding project on this platform and then after taking my personal brand more seriously transferred it to a custom domain created through WordPress which was alochtie.com. Further down the line I changed my personal brand to my companies brand; Lumos Digital Marketing and the content was lost.
This puts me out of the running for this little comparison exercise but some key takeaways for me from this module none the less include:
The importance of personal brand

Never stop developing your personal brand

Keep your content online and continue to update it

Never stop expanding your personal network

You can use your brand and network to majorly boost your employability or business
So, What's This Blog Post All About Then?
It's currently that time of year again where the Search and Social Media Marketing students are publishing their blog post and credit where it's due – a lot of these blog posts have reached my Linkedin feed – these students are obviously doing a good job of expanding their personal networks and pushing their content in the right industries.
This got me thinking, there must be a fair few years of students who have created these 'How my time at Salford Business School Prepared me for….' Style blog posts over the years. The chances are it's probably in the hundreds by this point. I wanted to take a look at who had most successfully ranked and promoted their blog post and personal brands websites over the years.
For the purpose of this comparison, I'm going to use 'How my time at Salford Business School' as the focus keyword, this way we can allow for different variations depending on desired career paths. This isn't a keyword that's going to make anybody rich or famous overnight, it has an average monthly search volume of 0-10 according to AHREFs but it's a good benchmark and a level playing field for students past and present to compete on.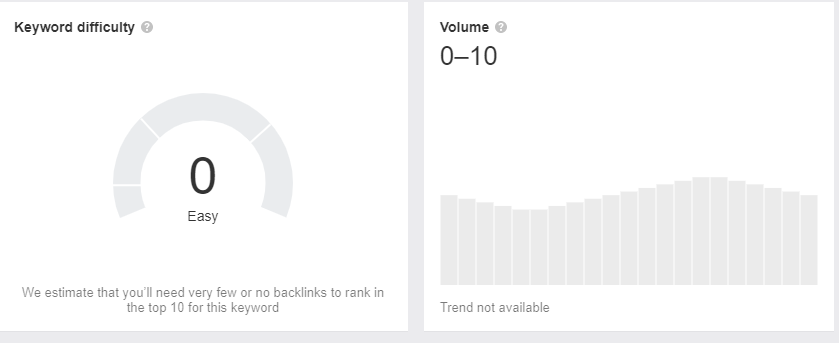 In this blog post, I'm going to look at the Top 3 highest-ranking blog posts on the SERP for this term. These Top 3 Blog posts have already proven out of the hundreds of potential blogs and articles over the years that they have done something right to beat the competition and climb their way to the top of Google. I will be looking at 3 main SEO factors for each website and scoring them accordingly.
These factors are:
On-Page SEO

Content

Off-Page SEO
Without Further Ado – Your Top 3 'How My Time at Salford Business School Prepared Me For…'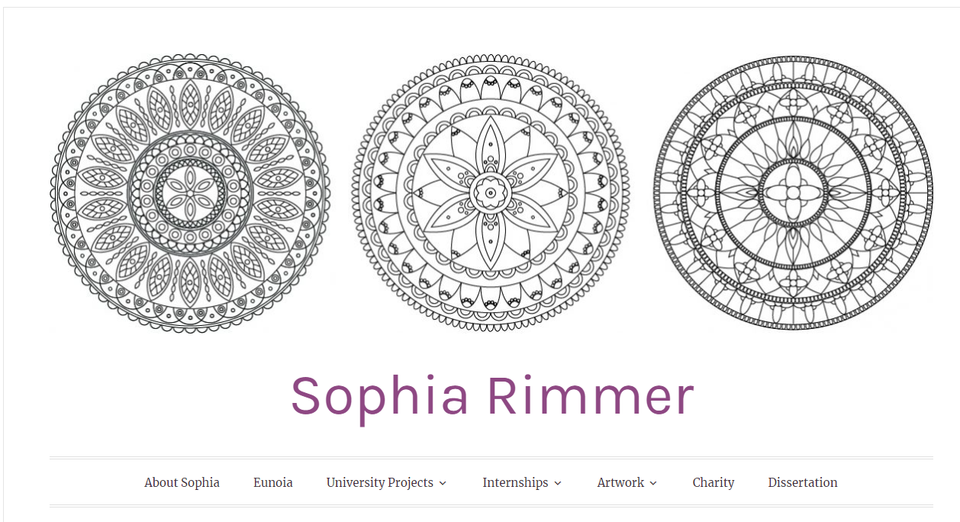 First up on this list we have Sophia Rimmer. Sophia has taken the coveted spot of #1 for this keyword and what's more impressive is her blog post was only posted in April of this year. Let's take a look at what Sophia has done in that short space of time to help her website rank above countless others and what has given her the competitive edge.
On-Page SEO:
For the purpose of this project, we will keep the analysis basic.
Title Tag: Yes , the title tag was in place but the it was a little lengthy, at 85 characters long it was over the recommended length of 50-60 characters for a title tag. This is because anything after that point becomes cropped off on the SERP and can discourage people from clicking through. (decreased CTR)

Meta Description: Yes, the page has a meta description but as you can see in the image above it has been generated by Google after looking at the text on page. Creating a custom meta description will improve click-through rate.
H1 Tag: No, the page doesn't have a H1 heading tag in place. This is super important for letting Google know what your site is about. The main title on the page is set up as a H2, changing  this could further improve rankings and relevancy for the page.
Overall Site On-Page SEO:
I've just taken a snapshot of the on-page SEO using a site audit from AHREFs. Sophia's website scored 76/100 with a few quick fixes that would help to optimise her site further. Some of these included:
·        Duplicate Pages
·        Missing Meta Descriptions
·        Orphan Pages (pages that aren't linked to from the main content of the site)
Content:
The content on Sophia's website is one of the strongest points. In the blog post on question she has written 728 words which is a reasonable length for a blog post in a fairly low search/low competition niche.
The content is well written and flows well and takes advantage of both internal and external linking to enhance the content and inform the reader. The only slight criticism might be the high number of external links, there's a possibility that someone could click them and not return to the page but in the examples she has used they seem relevant and useful to the reader.
As mentioned during the on-page SEO analysis Sophia could use H1 and H2 tags a little better throughout the page and breaking up her blog post with some smaller subheadings such as H2s and H3s could improve readability and open up more opportunities for long-tail keywords.
Off-Page SEO
It's in the Off-Page SEO that Sophia's blog post really comes into it's own and helps to explain how her content is so visible and ranks so well.
When we take a look at Sophia's website on AHREFs we can see she has a total of 7 Referring Domains and 10 Backlinks and that her site ranks for a total of 184 keywords. This has really helped her rank her blog post and once again highlights that good content can pick up natural links and authority for your website. 
In second place we have Martin Fielding, Martin was one of the students undertaking his Masters degree at the same time as me, this is highlighted by a lovely picture of our group that he's done a fantastic job of placing at the top of Google! Martin's blog post on his time at Salford Business School has been up for around 2 years now and in that time has moved to the second place position for our focus keyword. In a similar way to how Sophia's website ranked above the others, Martin's website consists of more content than simply his Project Blog for the course. Let's take a look at what factors he has done well on his site:
On-Page SEO:
Title Tags: Yes, Martin has a title tag in place on his website but it seems like this is just the title of the blog post and is around 80 characters long. This exceeds the recommended length of a title tag for a site as 50-60 characters long stops the title from cropping off the SERP result and provides more information to searchers helping improve Click Through Rates.
Meta Description: Yes, Martin has added a custom meta description to his blog post to help inform searchers what his content is about.
H1 Tags: Martin has made good use of his H1 tags on the page and includes his focus keywords for the article within it. In addition to this Martin also uses H2 tags throughout his blog post to enhance its crawlability and keep readers on track.
Overall Site On-Page SEO:
Unfortunately this is where the platform Martin uses falls short. His website doesn't have and SEO certificate and is blocked from being crawled by tools such as AHREFs for a basic SEO site health check. This is no reflection on the work Martin has done on his site but using a different platform such as WIX, Squarespace or WordPress may see him have more success if he wanted to add to this site in the future.
Content:
The content on Martin's blog post is good but falls a little short of Sophia in the number one spot. Martin's blog post is 523 words long which again is reasonable for a low competition niche. Where his content stands out is his use of H1 and H2 tags.
Martin uses good use of internal and external links on his blog page linking to guest lecturers we had during the module as well as promoting his own social channels in the closing paragraph.
Martin has added a lot of other content to his website and created blog posts on a range of different subjects which has helped him increase his visibility and improve the overall authority of his website.
Off-Page SEO
Martin's Off-Page SEO is reasonable, he has picked up two high quality referring domains which has given his overall domain authority a nice boost. These seem to be natural links picked up when someone has linked to an image on his website or mentioned him in a careers profile. Either way the linkability of his website has had a big benefit to his SEO.
In terms of ranking and developing his personal brad his website has been a great success. The name 'Martin Fielding' must be relatively popular because according to AHREFs it gets 80 monthly searches and Martin's Creative Hive website is the #1 result for that. This will help drive traffic to his website even if only in small doses, this is something that can improve the rankability on your website as Google identifies that people want to visit your site.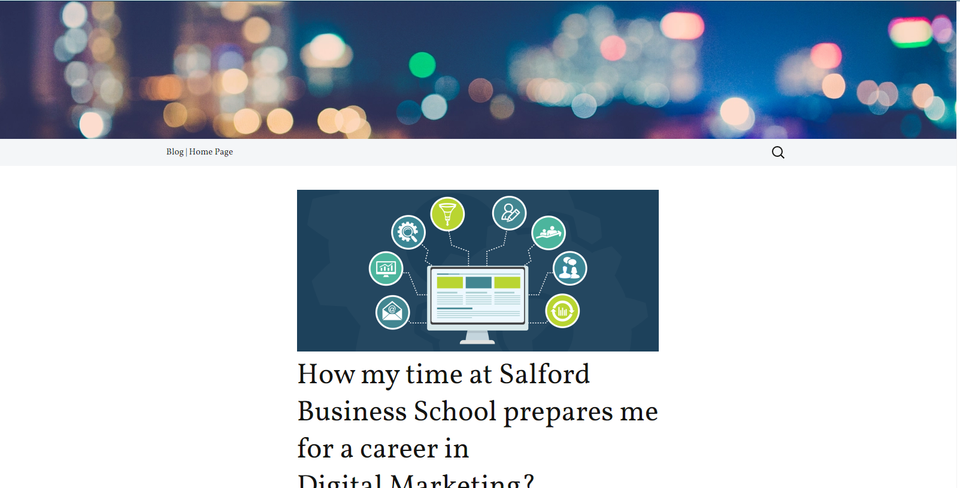 Coming in at third place for this keyword is Pamela. Pamela's website was created as a blog style website. It's unclear what platform she used to create the website but it seems to work well in presenting her content, loading quickly, and giving her enough customisability to create a nice clean looking blog website. By the looks of it the article was posted in July 2019 and has done a reasonably good job of climbing to position #3 in a short space of time.
On-Page SEO:
Title Tag: Yes, Pamela's blog post does have a title tag but as with the others on this list it exceeds the recommended character limit of 50-60 characters. Shortening this could improve CTR for the blog post.
Meta Description: Pamela has created a custom meta description for her site which hits the nail on the head in terms of describing the content of the page and incentivising people to click through to the article.
H1 Tag: Yes, Pamela uses a H1 tag on her page. Unfortunately she uses 3 H1 tags which can often confuse search engines when they crawl a page. Each individual web-page should only have a single H1 tag – this is the tag you use to tell not only your readers but crawlers what that particular page is about. Anything secondary to this should be added using H2,3,4s etc.
Overall Site On-Page SEO:
Pamela's site was crawlable by AHREFs which is a good start. The site actually scored the highest out of the 3 sites we looked at but then it had the least amount of content and probably the lowest margins for error.
Pamela's Site scored 80/100 on the AHREFs site health checker and some of the notable points she could action to improve her site health include:
Duplicate Pages

Multiple H1 Tags

Missing Alt Text on Images
Content:
The content on Pamela's blog post was well written and gave a good sense about the subject. The length of the article in question was only 420 words long which is reflected in the ranking of the blog post at #3 on Google as well.
In terms of structure if we look past the multiple use of H1 tags the blog post is well structured. It uses subheading to guide the reader and break the longform copy into manageable bitesize chunks to help keep readers interested and reduce bounce rate.
In terms of internal and external linking in the blog post there isn't really any. Pamela links to her LinkedIn page at the end of the blog post which is good for promoting her personal brand but some more links throughout the article could provide additional information to the reader.
Off-Page SEO:
In terms of Off-Page SEO for this particular site there isn't much to look at. The website was only created in July of 2019 but hasn't had much in the way of content added to it since. The fact this site ranks so well with low levels of content speaks to the quality of the content that is on the site and the on-page SEO efforts made by Pamela. 
Sneha's ranked in position #3 for this term but for a guest blog post she created on the University site. University .ac.uk domains carry a huge amount of clout, collect a bunch of high authority backlinks, and boast a massive amount of high quality content. It's no wonder that Sneha's guest post appears here. 
The Verdict On Whose Time At Salford Business School Prepared Them For a Career In Digital Marketing Best?
Ultimately all of the blog posts and websites created for this module are fantastic. Speaking personally this module was the one that really piqued my interest in SEO and made me want to learn more about it. It can be really overwhelming creating a website and posting your content for the first time.
Each person ranking in the Top 3 positions in this analysis have demonstrated a solid understanding of the foundations of SEO and demonstrated exactly how Salford Business School has prepared them for a career in digital marketing.