Got Some Great New Content You Want The World To See? Get Your Website And New Pages Indexed By Google Almost Instantly! 
As you may know, when it comes to SEO patience is a virtue. Making any changes to your websites SEO (on-page or off-page) can take months before you start to see any real impact of it. This is primarily down to how the Google algorithm works, if you picture the internet as a vast landscape of millions of web pages it's a big job for Google to crawl, index, and organise all of those pages. This is why at Lumos we approach SEO with a quality-first approach, although the exact ranking factors from Google are kept a mystery it is no secret that Google rewards quality content. If your website provides genuine value and quality and you can speak as an authority within your niche then that is half the battle. At Lumos, we work alongside our clients to help ensure that their website is a quality source of content and authority within their industry. Our clients help us convey their message and information in an authoritative tone and we take care of the technical SEO to make sure Google recognises that quality. 
With all that being said, it can be nice to give Google a nudge in the right direction sometimes and there are a couple of different ways you can do that. Say you have just created an amazing piece of new content you want the world to see, you can draw googles attention to it by following the steps in this guide. In this article, we will talk you through how you can tell Google all about your new website, blog post, or site updates and encourage them to index and crawl your site faster. So without further ado let's jump into it: 
Google Search Console
For the purpose of this article, we are going to assume that you already have Google Search Console set up for your website. If you don't we would strongly suggest you do that before attempting anything else SEO related (if you're not sure how then drop Lumos a message and we will be happy to talk you through it). 
Log in to your Google Search Console Dashboard. As some quick housekeeping before we jump into indexing your new page, you should ensure that you have submitted your website's sitemap in the past. This helps tell Google which pages it should be indexing on your website. You can do this by heading to the 'Sitemaps' tab on the left-hand side of the dashboard.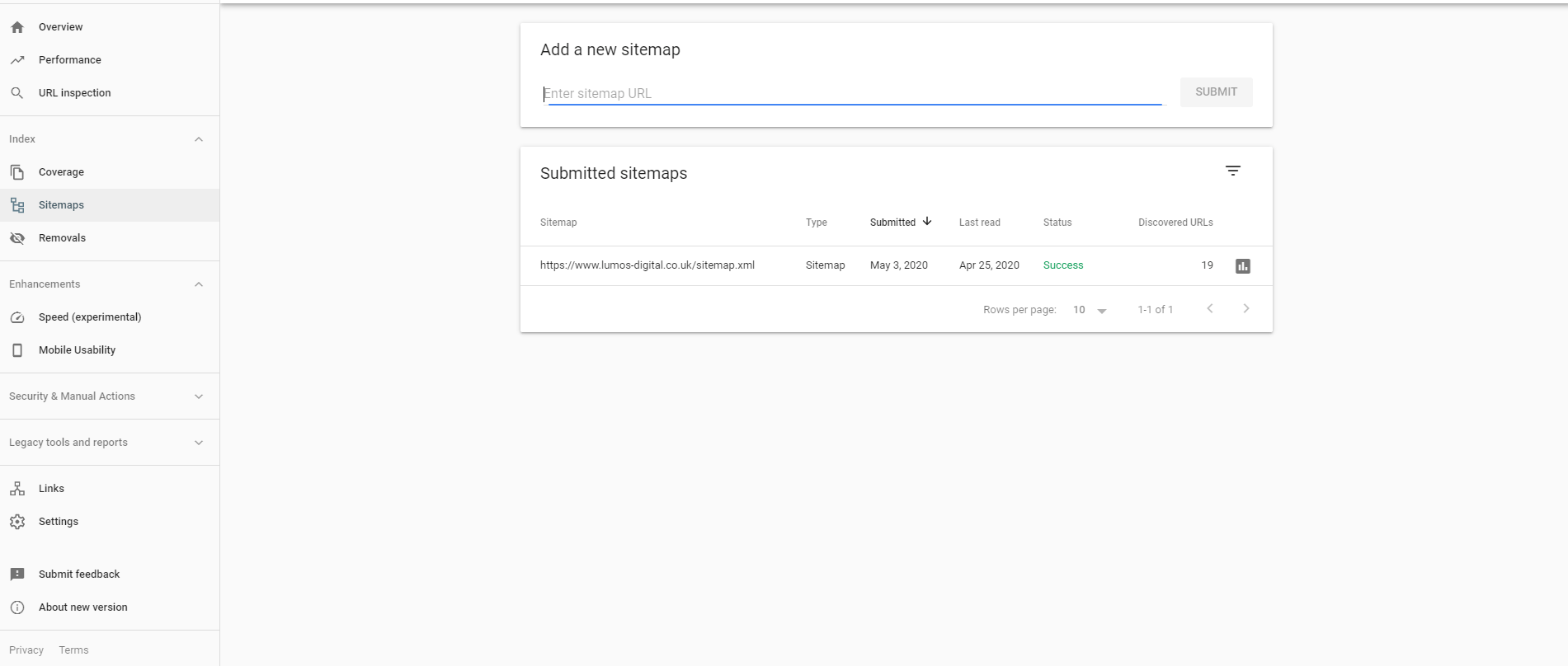 If you have submitted your sitemap successfully you should see a nice green 'success' message under your sitemap status column. On this screen, you will also be able to see when Google last read your sitemap. This will give you a clue about if your new content has been crawled yet or not. 
Check Your New Content
The chances are if you have your sitemap set up properly on Google Search Console then Google will index your new content sooner rather than later but there are a few ways you can check this. 
The first way is to search for your domain on Google – this will show you all the pages of your website that are currently being indexed on Google. This is great for smaller website but can be time-consuming to sort through if you have a larger site. To search your domain type 'site:mywebsitename(dot)com' into Google. This will show all your ranking pages within the SERP.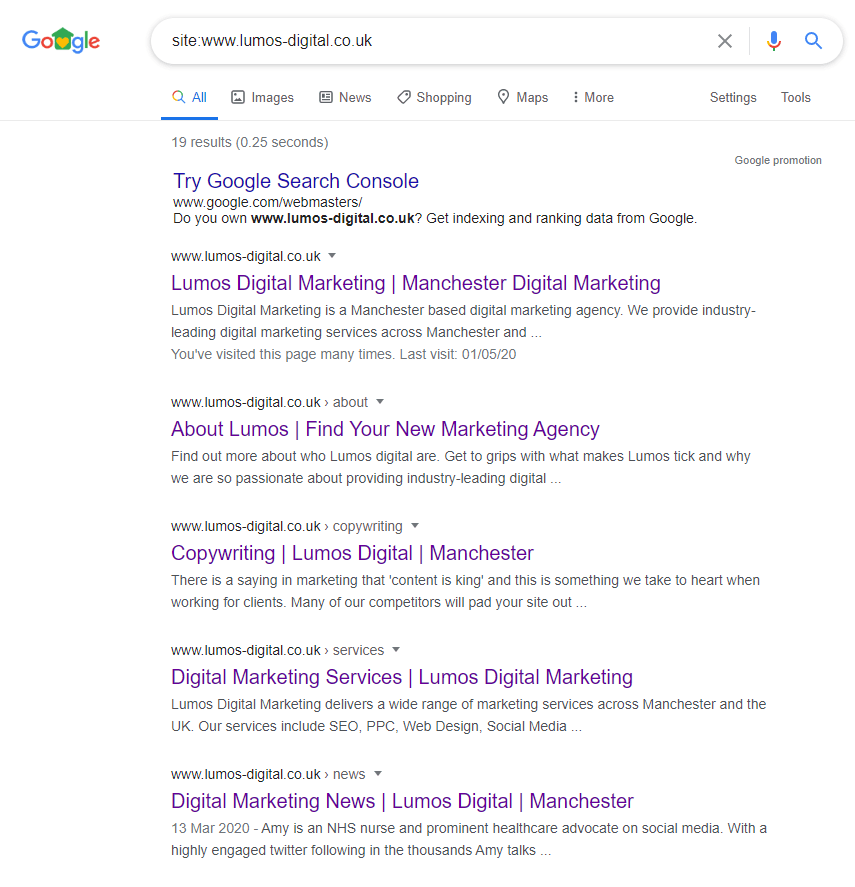 The next way of checking if your content has been indexed is to do a manual search for your content. This is particularly useful if you have published a new blog post or a page with a more 'long-tail' variation of a keyword that doesn't have a lot of competition. For this example, we will use our previous blog post on setting up a WordPress development link. 
Copy and paste the title of your content or blog post and do a manual search for it, if your new content has been indexed then you should see it within the SERP.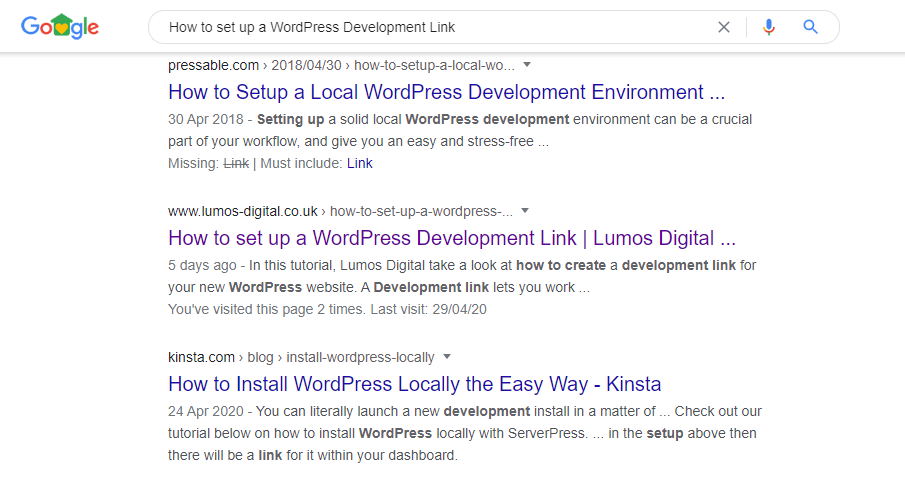 As you can see in the image above our last blog post has been indexed by Google and now shows up in the search results for the title of the blog. 
Manually Request Indexing
If you have set up Google Search Console correctly to crawl your sitemap and you have checked using the methods in step 2 of this guide and your new pages/content are still not being indexed then you can request a manual index of your site. 
To do this head back over to your Google Search Console dashboard. At the top of your screen, you will see a search box with 'Inspect any URL in "yourdomainname(dot)com". Copy the new URL you have created on your site and paste it into this box then hit search. 

When you have submitted your new or existing web page you will be met by a screen that tells you if your URL is on Google or not. From this page you can hit the 'request indexing' option to ask Google to crawl your web page again. You can do this for both new content and existing content that you have updated. 

At Lumos Digital Marketing we have seen great success using this method to index our new or updated content. We used this method for our previous blog post and seen it indexed within 5 minutes of submission. This process will, of course, be different for every site but if you want to push your site to be indexed after changes or new content then we would highly recommend this approach. 
The End Bit…
If you would like help or advice with any of the points we touch on within the article please don't hesitate to get in touch. At Lumos Digital Marketing we offer a full range of SEO packages and services to help you get noticed online and start climbing the search engine results pages. There are no short cuts to getting your website ranked and as we mentioned at the start of this article quality content and a well built and designed site will always rise to the top. Using our website design services and SEO services will help you stand out as an authority within your industry and start getting noticed.